Problem
If you see an error message when starting the scanning software indicating a missing connection or a defective driver, there may be problems in the connection or during the installation of the device.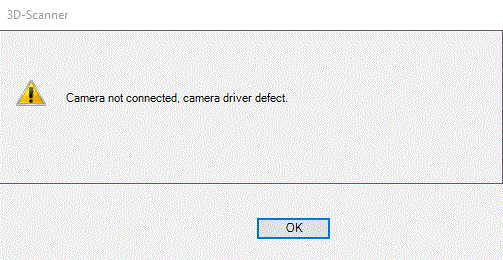 Following camera types are supported, search for the corresponding devices in the Device Manager:
Different error patterns
Open the Windows Device Manager and check the exact error pattern here.
Missing camera connection
If there is no connection to the scanner, you will not find an entry in the Device Manager.
Unknown Device
An unknown device can be quickly identified. Unplug the USB cable of the scanner. If the entry disappears from the Device Manager, it is the scanner. Only the scanner's camera is listed in the device manager.

If the camera appears as an unknown device, your system is not able to retrieve the device information.

Disconnect the power and USB cables from the back of the scanner and reconnect them after 10 seconds.
Missing camera driver
If only the camera driver is missing on your system, the scanner will still be listed in the Device Manager. In this case, you should be able to identify your scanner as one of the following devices, depending on the type of camera you are using:
Reinstall the camera driver to ensure correct functioning of the scanner.
Problems in communication with the scanner
| | |
| --- | --- |
| The marking of the camera means that there is a problem with the hardware or the ability of Windows to work with it. | |